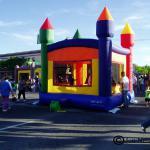 Montrose-Main in Motion (MIM) is a community-based monthly summer festival designed to expose residents and visitors alike to the wonders of Montrose and the incredible activities and people in the Western Colorado region.
MIM is working to bring residents and visitors to the downtown area to interact with each other in fun, family-oriented activities with food and local vendors.
Each festival has a different theme and the vendors and activies support this theme.
Community Heart & Hands agreed to sponsor this program because it fit with our mission to enhance community engagement. If you like to work with people and enjoy being outside on our beautiful Colorado summer evenings, you need to volunteer for this program! Call us today to see how you can help - (970) 249-9639.